About Unity of Las Cruces
At Unity we believe God is within each of us. That's a big deal! God is everywhere present. More, God is good all the time!
Unity of Las Cruces Today
Unity welcomes all. Many who have found themselves unwelcome because of their personal diversities are happily relieved to find a new home with Unity. Others on the edge or the outside of their original faiths have found Unity teachings a bridge to their spiritual understanding. Seekers who have wandered through many spiritual concepts are building new foundations of spirituality through Unity.
We are Unity, affiliated with Unity Worldwide Ministries, and grateful for the opportunity to share Unity principles and teachings here in Las Cruces, New Mexico. Currently, Unity of Las Cruces does this through our Sunday Service Celebrations, online presence, and in person as ambassadors of those same principles and teachings wherever we are.
Herstory, History
The Board of Trustees approved Rev. Pat Conway on February 19th, 2021 as Staff Minister and new addition to our Ministry Team. Also a published author, Rev. Pat shares her New Thought wisdom in Extra Thoughts, a welcome addition to our email newsletter.
Rev. Terry Lund, beloved Unity of Las Cruces Minister Emerita, made her transition to a newer happiness February 6th, 2021.  Below we share a favorite quote of Rev. Terry's:
"Life should not be a journey to the grave with the intention of arriving safely in an attractive and well-preserved body, but rather to skid in sideways, champagne in one hand, strawberries in the other, body thoroughly used up, totally worn out, and screaming… woo hoo, what a ride!"
On February 1st, 2021, Rev. Tanya D. Dawson moved from her role as Co-Minister to Staff Minister as more of her focus returned to novel writing.
December 22, 2021, our very own Virginia Brilliant, third generation Unity, celebrated her 101st birthday! (Watch the video in which Virginia and Kay Brilliant describe their histories with Unity.)
Ms. Helen F. Wright was officially appointed and approved by Unity of Las Cruces Board of Trustees, as well as Unity Worldwide Ministries (UWM) who granted her the status of spiritual leaser under special dispensation while she continues her ministerial studies. Ms. Helen F. Wright was officially introduced during the annual membership meeting on March 1st, 2020.
Ms. Helen F. Wright was officially introduced as the Unity of Las Cruces Ministry Coordinator at the end of the annual membership meeting on March 1st, 2020.
The happy announcement followed months of rigorous vetting through the Unity Worldwide Ministries as well as Unity of Las Cruces, garnering an unanimous approval of the Board of Trustees.
Reverend Tanya D. Dawson, who served as transitional minister January 2019 ‒ March 2020,  remains with Unity of Las Cruces as our staff minister and as part of the ministry team.
Unity of Las Cruces re-homed our physical location in January 2019 into the welcoming arms of our sister New Thought center, the Center of Spiritual Living (CSL) in the Heart of Las Cruces. There at CSL, 575 N. Main Street, we hold our Sunday Service Celebrations at 8:30 a.m.
Reverend Tanya Dawson, current member of Unity of Las Cruces and New Thought, metaphysical and spiritualist minister, was vetted through Unity Worldwide Ministries and by unanimous vote of the Unity of Las Cruces Board of Trustees in December, 2018.
Reverend Terry served as spiritual leader of Unity of Las Cruces, previously known Unity of Mesilla Valley, April 2004  ‒ January 2019. Reverend Terry Lund received Minister Emerita status for her stewardship of Unity of Las Cruces and her lifetime of service to Unity.
Unity of Mesilla Valley started as an expansion ministry under The Association of Unity Churches on September 22, 2002 lead by Reverend Harriet Valliere. Reverend Valliere, a loving member of Unity Worldwide,was honored with Unity's Myrtle Fillmore Award. When health challenges forced Reverend Harriet to step down from the work of building a church, Reverend Jane Waddington blessed us as our temporary spiritual leader until April of 2004.
The Unity New Thought Movement
Charles and Myrtle Fillmore created the Unity New Thought Movement.
Students of spirituality and metaphysics, Charles and Myrtle studied the philosophies of Ralph Waldo Emerson, Mary Baker Eddy and Emma Curtis Hopkins, early pioneers of the New Thought Movement.
Yet, it was Myrtle Fillmore's spiritual experience while attending a lecture of Dr. E. B. Weeks along with Charles which catalyzed them into action. It happened when they heard the metaphysician say, "I am a child of God, and therefore I do not inherit sickness." Both Myrtle and Charles healed long-time health issues using those words.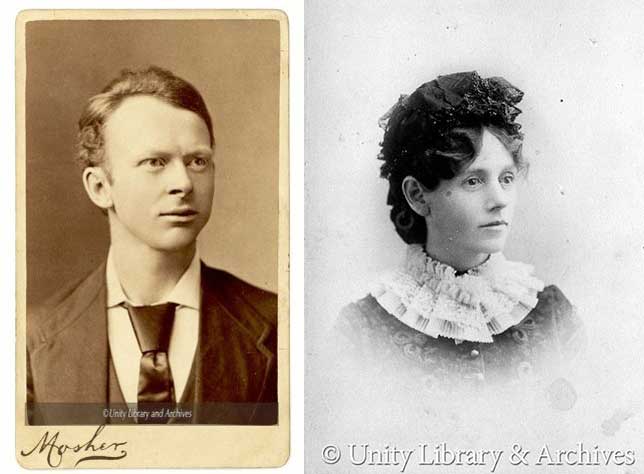 The couple healed through her words and went on to found Unity, beginning in 1889 with Modern Thought, the predecessor of Unity Magazine. In 1890 they started a prayer group now known the world over as Silent Unity, Unity's 24/7 prayer ministry. These were just the beginnings of Unity, which included the Daily Word in 1924.
Read more about Unity's history at http://www.unity.org/about-us/history.